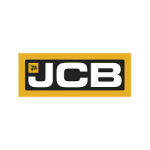 ---
Pioneering and innovative
A partner over the past 10 years of the British company, JCB, CFAO imports, distributes and services more than 2,000 pieces of equipment in 21 countries on the African continent.

JCB, the world's leading manufacturer of backhoe loaders and telehandlers, offers a complete range of more than 300 models, from 1.5-tonne excavators to 22-tonne loaders.


JCB machines, mainly built in England and India, are specially developed to meet the requirements imposed by hot and humid environments. Reinforced filters, simplified electronics and Tier II/IIIA engines are all elements that contribute to the machines' great reliability and a total cost of ownership that is among the lowest on the market.

85% of the range is equipped with the 4- and 6-cylinder Dieselmax and Ecomax engines designed and manufactured by JCB. Mastery of all of the components means that 87% of parts are shared by the majority of the machines in the range.

Whether they are major players in the agri-food sector or small earthmoving companies, more than 600 customers rely on CFAO and JCB to keep their business running.
Read more ...
... Read less